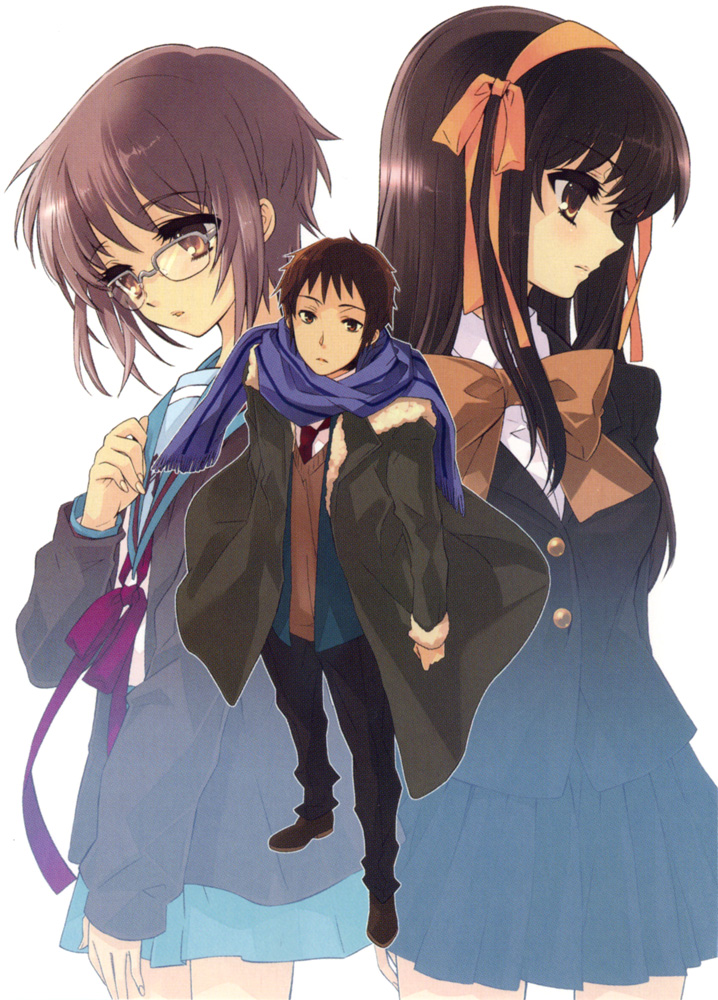 The Disappearance of Haruhi Suzumiya is the follow-up film to the beloved anime series of a similar title and in brief summary it's fucking amazing. Taking the series as groundwork and using it to build a fantastic and heart-felt story, Disappearance manages to create a justified and satisfactory ending to the Haruhi story, even if you still want more at the end.
Disappearance picks up where the last episode (chronologically) ends and we are accompanied as always by the begrudging Kyon as he's being dragged along for one of Haruhi's schemes. The next day when he gets up and goes to school he finds that the world has changed and that no one knows who Haruhi is, or is there any evidence that she exists. With everything and everyone normal, Kyon struggles to find out what happened, what to do, and where in the world Haruhi is.
Lets get the technicals out of the way first. Practically everything about the original series is either maintained or improved on in Disappearance. The animation is even better then before, only showing weak spots on rare occasions. The music remains extremely well used, but this time there's nary an annoying track to be found. The voice acting is astounding, with both Kyon (Crispin Freeman) and Nagato (Michelle Ruff) putting in memorable performances. The story is well paced and with little plot holes or objectionable content and the script is also good, with the same level of dialogue and wit being well balanced with more serious material. I really need to emphasize that the story is incredibly engaging and there are scenes that are so well done and impactful you may get goosebumps.
So yes. Go see it. Even if you haven't seen the series give it a go. It's themes are fascinating and it's setting and story make it great for Christmas. What gets me most about this movie, and what really makes it a good film, is the characters. With a movie, you rarely have enough time to get particularly invested in the characters even if the story is more epic. With a TV show or anime you get invested, but the show rarely has a good finale to pay off your investment. However, with Disappearance, and with a lot of follow-up films to series (ie FMA, Firefly), you get an epic story that allows for all the proper payoffs with the characters you'd been hoping for. What Disappearance did for me was make me realize how much I was invested not just in Kyon, but in all of the characters. It had nods to subplots I had been curious about and it had callbacks to things that I had experienced with the characters (Endless Eight makes Nagato's character parts all the more powerful). The SOS Brigade I realized meant the same to me as the Scoobies, Angel Investigations, the crew of Serenity, and the cast of Friends, Scrubs, HIMYM and Steins;Gate. They're a group of people whose adventures I shared in a way, and who I got to see grow. There are so many poorly written movies and TV series these days that I'll have to suffer through and hopefully along the way I'll come across other characters to get invested in, but what Disappearance showed me by being a proper finale was that no matter what I can always come back to that club room and share in the adventures of Kyon, Koizami, Nagato, Ms. Asahina and the always happiness-spreading Haruhi Suzumiya. No I'm not some crazy fanboy of the series, as it's in no way going to become an obsession of mine. It's merely another moment of my life, but an enjoyable one. So don't be a dummy and watch the show if only so that you too can take part in this excellent film. Unfortunately The Disappearance of Haruhi Suzumiya isn't available for legal streaming anywhere, but you can pick up the DVD again from Bandai Entertainment (until they go out of business).